concert installation for 6 audio islands, 4 instruments, 2 voices and electronic sound processing.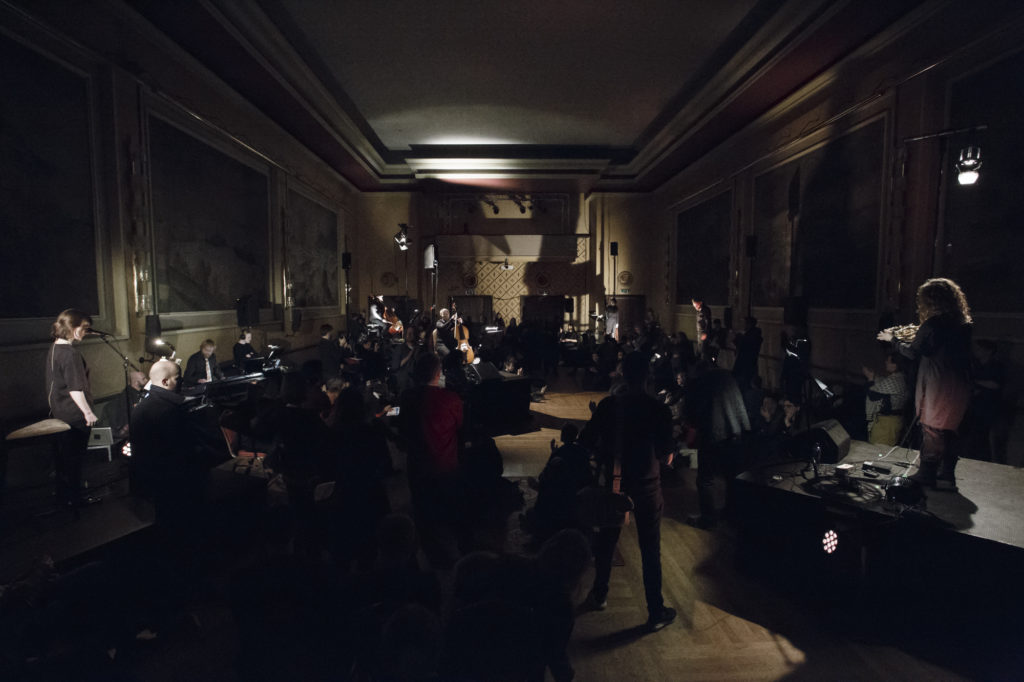 Premiered 10th of March 2017
'Lemuria' is the fourth in an ongoing series of works from LEMUR, appropriating titles and concepts from the canon of 20th century art music for creative re-use. The title draws not only upon the myth of the lost sivilization of Lemuria, but also a movement from Luigi Nono's work "Guai ai gelidi mostri", one of the many points in his oeuvre where the notion of islands occur.
Lemur's "Lemuria" uses the island metaphor as a concept for sound distribution, in the placement of musicians and audience and as a compositional strategy. The work is built up from isolated sounds and material types developed independantly by all performers, that later are combined into textures highlighting different aspects of the performance space.
The piece is performed from 6 "islands" spaced out through the venue. Each island is a station manned by a performer, two speakers and a light source. Each performer is both soloist and ensemble as the music reconfigures the site and the sound across the span of the performance. Audience can choose to sit or move through different positions as they please.
For the first time, Lemur collaborates with singers Stine Motland and Unni Løvlid. The two truly unique voices bring with them a complimentary range of extended vocal techniques as well as the contrasting qualities found in the different aestetics and traditions of norwegian folk and  experimental music.
Lemuria is performed in a customized multichannel system for live processing that carefully balances the individual sound quality of each player and microphone with the colour and signature of the venue. The system is devised by Bjørnar Habbestad, Thorolf Thuestad, Jeff Carey and Bernt Isak Wærstad.
Lemuria is composed by Bjørnar Habbestad, Hild Sofie Tafjord, Lene Grenager and Michael Duch.
Sound engineer, live processing and spatialization by Thorlof Thuestad.
Audio processing software for Lemur is developed by Jeff Carey.
Hardware construction and programming Bernt Isak Wærstad.
Lemuria was premiered on Borealis festival in Bergen in March 2017

Matrix of possibilities
Robert Barry
seismograf.org
There is a peculiar gait employed by those who deign to patrol the space of a concert hall during such works as invite their audience to walk about during the performance. Lolling but hesitant, always solitary and serious-faced, they look a little like movie somnambulists. But such studied perambulations are hardly necessary to the appreciation of Lemuria, a new work by Norwegian improvising group LEMUR, for so successfully did it evoke, by its own means, a sense of movement, narrative, and far-off places.
Inspired by Luigi Nono's Guai ai gelidi mostri and the spurious 'lost continent' proposed by Victorian zoologist, Philip Sclater, the piece sees LEMUR's four regular members (flautist Bjørnar Habbestad, cellist Lene Grenager, horn player Hild Sofie Tafjord, and double bassist Michael Francis Duch) and two additional vocalists (Unni Løvlid and Stine Janvin Motland) dispersed amongst six 'islands' throughout the concert hall at Grandbergen, following a loose score, more like a matrix of possibilities than precisely encoded instruction, governing pauses and processes rather than specific notes. Listening to Duch tenderly pluck at his bass strings, letting them rattle against the screw of his bow, and the always-otherworldly voice of Stine Janvin Motland, I feel myself transported, temporarily, dreaming of other worlds.
Tweet This
Share this on Facebook