Polytop – a site specific sound installation for the Ulltveit-Moe pavillion with active monitors, transducers, headsets, speaker cones and exhibition furniture.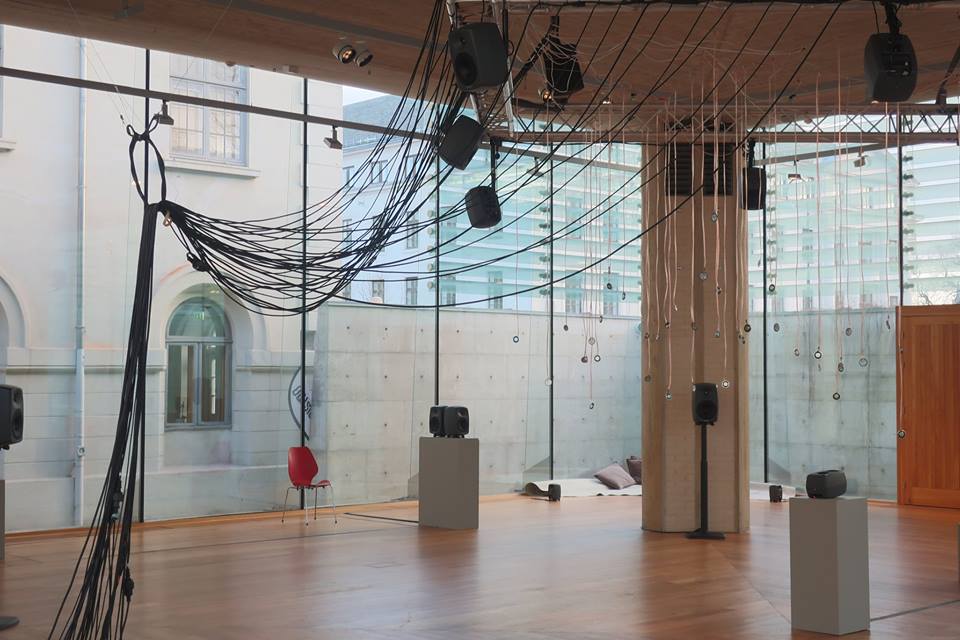 Premiered 20th of january, 2018, Oslo.
Like many other works by LEMUR, Polytop is a point of reference anchored in creative reuse of 20th century art music. The title plays on composer and architect Iannis Xenakis's own term for spatial audio installations, an expression that he developed partly in cooperation with Le Corbusier. Developed as a site specific work, Polytop uses the transparent but intimate quality of Sverre Fehn's glass pavilion from 2008 to question how rooms affect the way we listen, and how our listning affects a room. The installation utilizes different acoustic zones in the pavilion, encouraging the audience to walk around, sit down, listen with headphones or be immersed by sound.
The work is commissioned by the National Museum, supported by the Norwegian Arts Council.
Polytop is one of the four elements of 'Samtaler om rom', realized during Lemur's period as Ensemble-in-Residence at the National Museum of Art, Architecture and Design, Oslo, in 2018.
Composition: Bjørnar Habbestad, Hild Sofie Tafjord, Lene Grenager, Michael F. Duch
Sound Design: Thorolf Thuestad. Speaker-cone mesh constructed by Thorolf Thuestad and Eva Pfitzenmaier for "ord/word/Wort & land/land/Land".
Coproduction: Foreningen 3DA, Notam, nyMusikk, Lydgalleriet.
Technical system
42 channel sound system distributed over more than 60 speakers of different sorts and sizes.
Sound sources
Recordings of source material have been made in Trondheim, Oslo, Bergen, Reykjavik og Köbenhavn, between 2012 and 2017. Contributing musicians are: Lemur, Caput Ensemble, Microtub, Eivind Lønning, Morten Barrikmo, Tanja Orning, Dirk Bruinsma, Robin Hayward, Lotte Anker, Torben Snekkestad, Liza Gibbs, Anna Klett, Ole Henrik Moe, Kari Rønnekleiv,  Daniel Formoe, Ellen Holmås, Astrid Solberg, Astri Hoffmann-Tollaas, Johannes Borchgrevink, Marianne Baudouin Lie, Anders Rove, Jostein Bolås Brødreskift, David Andersson, Björn Petersson, Morten Berger Stai og Kristian B. Jacobsen.
Here is a short video from the opening of our installation Polytop. It is up until February 4th so it is still possible to see it!!

Posted by Lemur on Dienstag, 30. Januar 2018
Tweet This
Share this on Facebook